Danuser Auger Bucket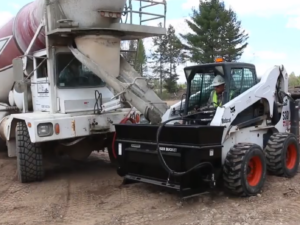 Reach hard to maneuver fence lines with the Auger Bucket. In today's competitive environment, you can't afford to wheelbarrow and shovel concrete to post holes that are difficult to reach. The Auger Bucket lets you maneuver into fence lines that are hard to reach to fill holes quickly without spillage, saving you time by speeding up the process. Just fill the bucket with up to 3/4 yard of concrete mix with hopper extension and easily fill post holes. To discharge the material, simply turn the auger forward.
The quick-tach mounts let you select between right or left-hand discharge with hook up to a skid-steer. Cleaning is simple – run the auger until all of the concrete material is gone and spray with a hose.
There are three augers to choose from – the concrete dispensing auger, the mixing dispensing auger, and the sand dispensing auger. Each allows one-person operation. They are perfect for formwork, concrete, landscaping, fencing, pothole filling, or sandbag filling.
Pouring cement shouldn't take a lot of time. We can help you speed up the process. Give us a call. It's easy to put up fence posts with the auger bucket.
See Auger Repairs & Maintenance below for more information on preserving the quality of your equipment.
Product Specifications
Highlights
Quck-tach hookup
Left or right discharge
Easy cleanup
One person operation
Auger
Concrete Dispensing
Mixing Dispensing
Sand Dispensing
Capacity
3/4 yard with standard hopper extension
Download Product Information
Flyer
Auger Repairs & Maintenance
Manual
Additional Information
The Auger Bucket can be used for:
Formwork
Concrete
Landscaping
Fencing
Pot Hole Filling
Sand Bag Filling