Lobo Post Puller (Discontinued – Replaced by LOBO Post Puller Extreme)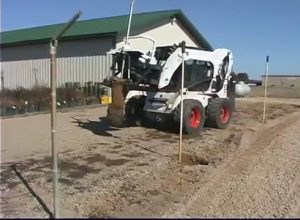 The LOBO Post Puller offers exceptional pulling force and visibility for quick operation. Operated by one person, it speeds up the process of removing posts in a variety of shapes.
The LOBO Post Puller lets you pull an unprecedented average of two posts per minute. It clamps the post and lifts it out of the ground with a breakthrough pulling force of 17,000 lbs. You no longer need to chain and unchain fence posts to loaders. Simply grab the post with the LOBO Post Puller and release it to discard. No additional workers or chains are needed.
The LOBO fence post puller's wide base lets you remove up to 8 ½-inch posts with concrete up to 23 inches in diameter, whether they have round, square, T-shaped, or any other shaped posts. Damaged posts may be removed while leaving the fence intact. Because you will need a post remover that allows you to maneuver in tight areas for hard to reach posts, the LOBO fence post puller was developed with a compact design. The LOBO post puller is easy to operate in all situations and it sits low to the ground for maximum visibility. A safety bar protects the skid-steer operator and allows for quick-tach hookup.
How fast do you need to take down an old fence. We'll help you calculate that using the the LOBO Post Puller. Give us a call.
Product Specifications
Highlights
Quick-tach hookup
Execptional visibility
One person operation
Pull Force
17,000 lbs. of breakout pulling force
Post Diameter
Adjusts to round posts of 1″ to 8.5″
Other Applications
Clam clamp jaws for pulling I-Beams, C-Posts, T-Shaped Posts, Wood Posts (round & square)
Download Product Information
Flyer
Repair Tips