Architects & Engineers
This section is designed to assist Architects & Engineers develop bid specifications for commercial chain link fencing projects they may be working on. L&C Enterprises-USA's pre-formed fence ties meet ASTM requirements. If you have questions about your project, call us at 866-786-1009.
C-Post Ties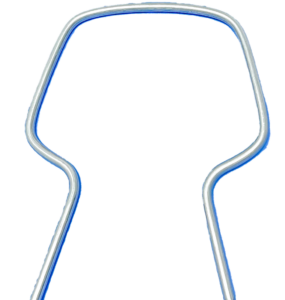 Description
Used on commercial and industrial fences when C-Rail, Standard, Heavy, and Super C-Posts are used instead of standard round posts. This is an Easy Twist product and the twisted ends will be on the side of the post parallel to the fence line. Ties will not come off unless they are cut off.
Specifications:
The ties shall be a preformed steel wire ties formed in the shape of the post or rail while fitting tightly over one picket of the fabric. The two ends shall be power twisted with a tool designed to twist the ends three full twists equivalent to one and one half machine turns. The tie shall be positioned on the post or rail with the twisted end protruding in the same direction parallel to the fence preventing the risk of injury to passing personal. The gauge of the wire tie shall be the same as the fabric.
Tie wire shall be the same gauge and coating as the fabric used.
The tie meets Meets ASTM F567-14 8.4 Power Fastened, Preformed Metallic  Coated Steel Round Wire Ties
Documents: