Rhino Multi-Pro GPD-45 Gas Powered Post Driver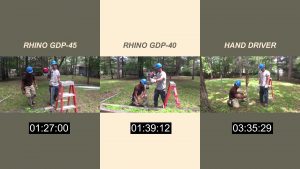 Like the Rhino Fence Pro, it is powered by a Honda 4-cycle engine, but the Multi-Pro™ has been engineered with increased driving dynamics needed to drive larger posts and versatility to take on more post driving applications.
The design includes ergonomically balanced cushioned grip handles, Rhino® CIS™ anti-vibration dampening, Rhino Tension Grip™ crankcase cover for fast inspection and maintenance, and the Rhino® Chuck-Lok™ Adapter System that allows the operator to quickly install post adapters in the field, ranging in application from 1″ to 2-3/8″ round posts.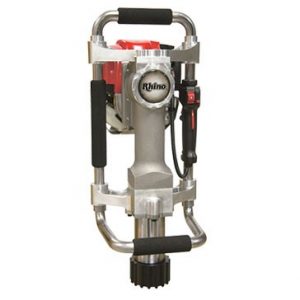 The Multi-Pro versatile external chuck design can be configured for driving 1.2-4 lb channel post, tent stake, or 1-3/4″ to 2-1/2″ square sign post and square post sign anchor with a drive cap.
Product Specifications
Model:
Multi-Pro Gas Powered Driver
Model Number:
301002
Equipped With:
2-1/2″ (44.45mm) I.D. Master Chuck
Weight:
Approx. 44 lbs. (19.96kg)