Self-Locking Fabric Bands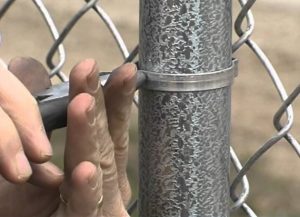 Self-locking fabric bands give a professionally-installed look to a fence as well as a strong and secure bond when attaching 9 gauge chain link fabric to fence posts. They are available only to contractors.
The flat surface provides a safe environment for those who may come in contact with the twisted ends of tie wires. That makes the self-locking fabric bands ideal for residential, school, playground and sports park applications.
It also comes in black or green for use with vinyl coated fabric up to 8 gauge finish.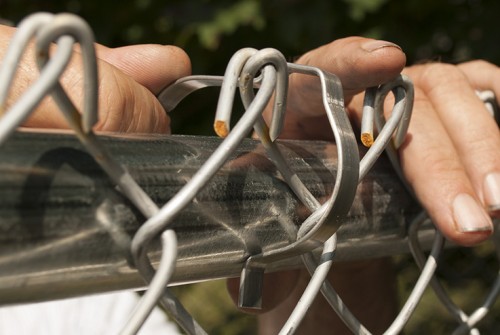 The self-locking fabric bands are easy to install. The bands are pre-shaped to fit around four different size posts. Simply slide the band around the post, hook the two ends of the band together and tighten with a pliers. Using the pliers, turn the end towards the post and hammer it flat against the post. While other ties can come loose, the locking joint provides a strong hold that will not break loose over time.
Looking for an advantage in high traffic, high contact applications? Give us a call.
Product Specifications
Post Sizes
1 5/8 in., 2 in., 2 1/2 in., and 3 in.
Finishes
Alumninum
Powder Coated (Black and Green)
Applications
Great for high traffic, high contact places such as residential areas, schools, and playgrounds.
Specifications
Size: 0.065 x 0.375
Tensile Strength: 30,000 psi
For use on 9 gauge fabric only or no more than 8 gauge finish vinyl coated fabric
Shipped in box of 500
Download Product Information
Flyer