C-Post – Easy Twist Ties
C-Post Ties are pre-formed to fit various sizes of C- Post, and C-Rail. They are used in commercial jobs, airports, and correctional facilities. They are much faster and more secure than hook ties.
See Video: "Problems With Hook Ties"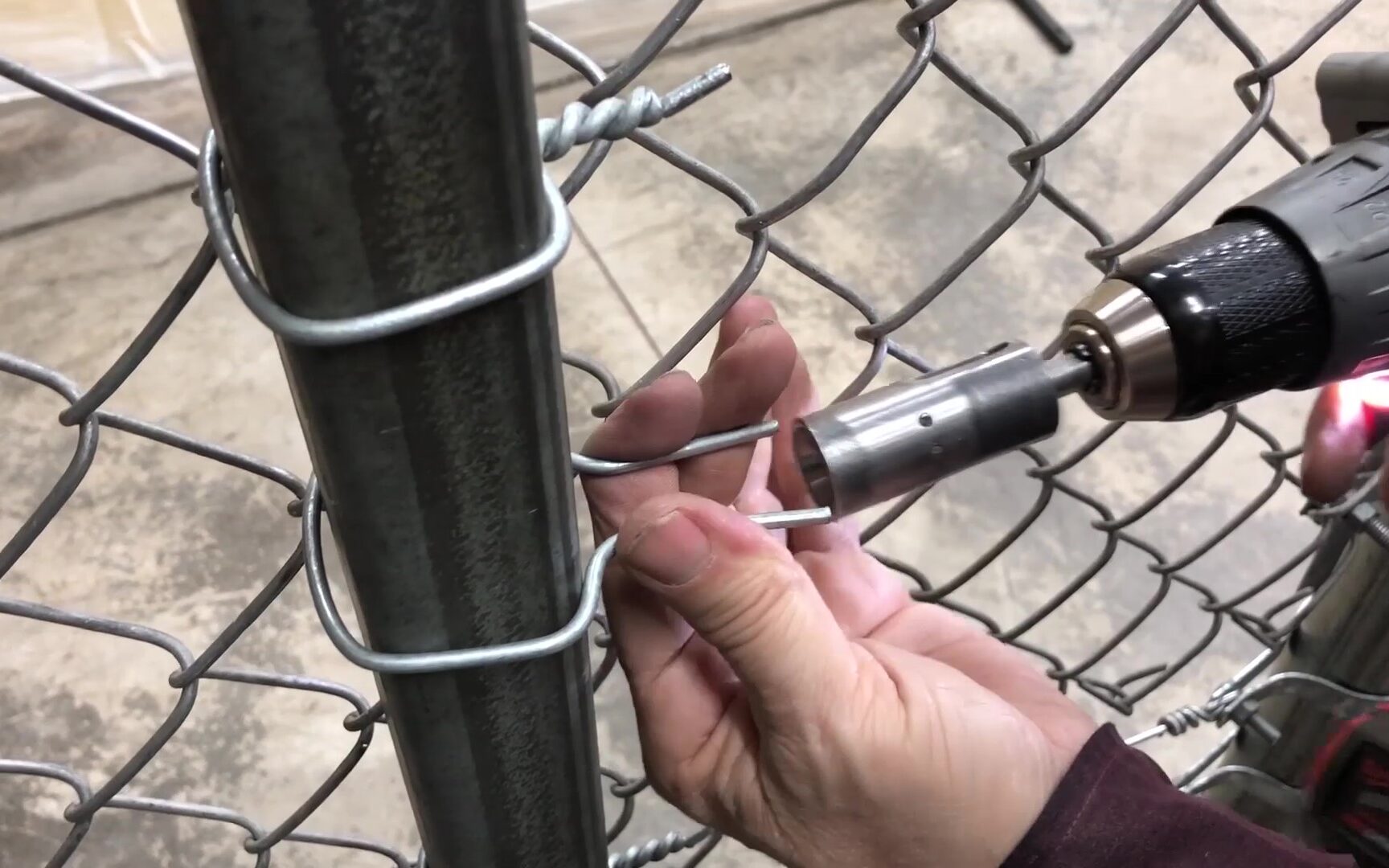 Ease of Application:
C-Post Ties are performed to slip around the post and fabric without having to open them up.  They are easily pinched together, inserted into the Easy Twist Tool, and twisted.  After twisting is complete one end of the tie will twist off allowing the drill and tool to come right off the tie.
C-Post Ties are fabricated to meet ASTM, Federal Bureau of Prisons, Army Corps of Engineers, Federal Aviation Administration, and state and local facility specifications.
See Video: "C-Posts"
Product Specifications
Meets ASTM F567-14 8.4 Power Fastened, Preformed Metallic Coated Steel Round Wire Ties:
C-Post and Rail Sizes:
Standard C-Rail
Standard C-Post
Heavy C-Post
Super C-Post
Galvanized
Note:  Easy Twist Ties are not to be used in residential settings.
Download Product Information
Flyer
What Our Clients Are Saying
"As an owner of the Barbed Wire Dispenser, I cannot be more pleased with the increase in production our crews have experienced when using this unit. Just the other...
Robby Cearley

"Installink is the greatest! Four men can't keep up with two men and on Installink. Installink improves company performance and helps keep employees happy. Two-thousand feet of wire up...
C. Hobson Kahl

"The Rapid Roller saves us at least 50 percent in labor costs versus rolling up chain link without one. This unit allows us to get in tight spots and...
Jeniene Blatt

"Once you've used a Talet Auger Bucket you wonder how you ever lived without one! I recently had a job that required setting 350 posts over a 12foot high...
C.D. Stroud

"We use the Installink almost every day. We are currently on a project that requires the fabric to be lifted over the top rail and dispensed on the back...
Billy Briggs

"The Rhino GPD-30 driver is an amazing tool. It saved us 2 days work on our first job."
Bob Murphy

"I have used Self Locking Fabric Bands on the majority of my chain link fence installations. They are the best option when fencing around day cares, schools, homes or...
David Ellison

"We used to buy hog rings by the bag. No one wanted the job because when you reached in for one hog ring you pulled out a string of...
Jeff Lighthall

"I use Easy Twist Ties on every job that requires steel fence ties. Our crews report a three to one installation advantage when compared to using pliers and hook...
Billy Briggs

"The Installink and preformed ties have tripled our production. You have single handily changed the methods of fence installation throughout the chainlink fence industry."
Fred L. Cheal

"The LOBO Post Puller has completely changed the way we look at fence post and footer removal. Since our purchase of this piece of equipment, we have yet to...
Jeffrey M. Zwergel

"Over the years, Riteway Fence Company has used Rhino Post Drivers to help complete our fence and guardrail projects throughout the state. From its user friendly operation to its...
Mark Grzanka