Cable Ties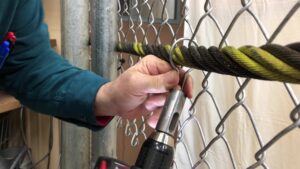 Crash Barrier Cable Ties are used to tie 1", ¾" or 3/8" cable to fencing.  Typical these are found on race ways to help protect the public from flying debris and cars.  The cables are stretched a long side of the fencings and tied together creating a catch net reducing chances of injurie to the surround attendees watching the race.
Ease of Application:
Crash Barrier Cable Ties are preformed to fit 1", ¾" or 3/8" Cable and a wire of the fencing without having to open them up.  They are easily pinched together, inserted into the Easy Twist Tool, and twisted.  After twisting is complete one end of the tie will twist off allowing the drill and tool to come right off the tie.
Product Specifications
Meets ASTM F567-14 8.4 Power Fastened, Preformed Metallic Coated Steel Round Wire Ties
Available in: Galvanized Steel 9 gauge – 1.2 oz.
Note:  Easy Twist Ties are not to be used in residential settings.
Download Product Information
Flyer