Rhino Ranch Pro GPD-30 Gas Powered Post Driver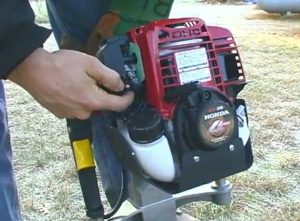 A lightweight, compact driver with the reliability of a Honda 4-cycle engine. The Rhino Ranch-Pro Gas Powered Driver is powerful and can drive posts in seconds. It is easy to transport and operate. Weighing only 35 pounds when fully fueled, a single person can quickly handle post driving tasks.
Rhino has ergonomically designed the handles for weight distribution and incorporated internal vibration dampening for the operator's comfort. Rhino Ranch-Pro components are engineered to the highest quality and for durability.
The Rhino Ranch Pro GPD-30 is the perfect tool for post driving tasks across several industries, such as farming, vineyard, sign installation, professional fence contractors, and many more.
Product Specifications
Hammer and Anvil, S-7 Tool Steel, Hardened to Rc 54-56
One-piece Pinion Gear and Clutch Drum, 8620 Hardened to Rc 58-62
Spur Gear, 8620 Hardened to Rc 58-62
6061 Aluminum Connecting Rod and Piston
Oilite Bearings in Connecting Rod Assembly
Aluminum Castings, A356, Heat-Treated Virgin Material
One-Piece Crankshaft
High Quality Sealed Bearings
Hardened Wristpin
Quality Viton O-Rings
All Fasteners installed with Thread Locker
Weather-tight Electric Connection
Aircraft-Quality Stainless Steel Hardware
Powder Coated Chuck Tube
Ergonomic Handle Design for Even Weight Disribution
Fully Enclosed Vibration Dampening System
High-Density EPDM Handle
Download Product Information
Flyer
Manual
Additional Information
Easy to Transport – Fully fueled weighs only 35 lbs.
Powerful and Fast – Drives posts in seconds. Additional Equipment Not Required – No need for propane, air compressor, or hydraulic power source.
No Jack-hammer Effect – Ergonomically designed handles and internal vibration dampening for operator's comfort.
Highest Quality and Durability – Manufactured from the very best, precision engineered materials for long tool life.