EZ SPOT UR Post Setter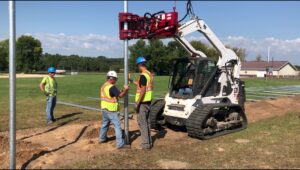 The EZ Spot UR Post Setter is our most recent piece of equipment that L&C Enterprises-USA, Inc. added as recommended equipment to have in the fence industry.  When Installing Long or heavy posts, using equipment designed to handle these posts safely is worth having.  With today's labor force getting more scarce, employee safety should be every company's goal.  As the years go by, keeping your current labor force healthy makes sense.  Having great equipment at your disposal, getting jobs done with your current workforce is possible, even for an aging company. Watch the video here!
The EZ Spot UR Post Setter can handle post sizing from 4" to 14" in diameter and as long as 32'. Consult Chart for Operating capacities. Note:  Inserts can be purchased to make the unit close down to 0".
Download Product Information
Flyer
Manual