Round – Easy Twist Ties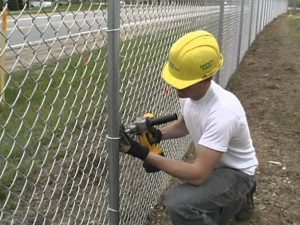 Easy Twist Fence Ties are pre-formed to fit various sizes of round posts and rails.  They are used in commercial jobs, airports, and correctional facilities.  They are much faster and more secure than hook ties.

See Video: Problems With Hook Ties
Ease of Application:
Easy Twist Ties are preformed to slip around the post and fabric without having to open them up.  They are easily pinched together, inserted into the Easy Twist Tool, and twisted.  After twisting is complete one end of the tie will twist off allowing the drill and tool to come right off the tie.  Contractors report a 3 to 1 advantage over hand-tying 9-gauge steel hook ties.
Easy Twist Ties are fabricated to meet ASTM, Federal Bureau of Prisons, Army Corps of Engineers, Federal Aviation Administration, and state and local facility specifications.
Product Specifications
Meets ASTM F567-14 8.4 Power Fastened, Preformed Metallic  Coated Steel Round Wire Ties
Note:  Easy Twist Ties are not to be used in residential settings.
For more information, see: Architechs & Engineers
Download Product Information
Flyer