MacKissic Augers/Bits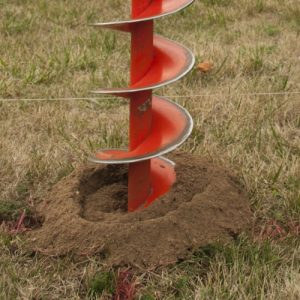 Augers for the MacKissic Easy Auger are available from 2″ to 18″ in diameter with a variety of teeth, bits, and extensions (up to 66″ deep). The augers attach quickly and easily.
Each auger comes standard with a 7/8″ square hub, dirt teeth, and pilot bit. Adapters are also available to use your existing bits on the Easy Auger: Stihl (1.125″ round), General (1″ round or 1.375″ hex head), and Little Beaver (1.25″ square).
We also carry a complete assortment of special duty pilot bits, teeth, extensions, and adapters.
Product Specifications
Augers
2″ x 36″ at 8 lbs.
4″ x 36″ at 17 lbs.
6″ x 36″ at 18 lbs.
8″ x 36″ at 23 lbs.
10″ x 36″ at 27 lbs.
12″ x 36″ at 30 lbs.
16″ x 36″ at 45 lbs.
18″ x 36″ at 47 lbs.
2″ x 42″ at 9 lbs.
4″ x 42″ at 15 lbs.
6″ x 42″ at 20 lbs.
8″ x 42″ at 25 lbs.
10″ x 42″ at 30 lbs.
12″ x 42″ at 32 lbs.
14″ x 42″ at 47 lbs.
18″ x 42″ at 50 lbs