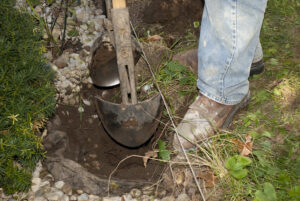 The Boston Digger is a professional post hole digger widely used by fence installers. It is designed to be able to dig out small rocks and loose sandy dirt from a hole by going underneath it and pulling the sand out. Check out our photos on Flickr.
We often use the Boston Digger to clean out holes dug by an auger like the MacKissic Easy Auger. It digs straight down without widening the top of the hole. I can get into a narrow hole, an eight inch hole, with this thing and go down up to four feet deep. You can actually get in there and do a good job pulling out the loose dirt.
I have two tips to improve the use of a Boston Digger on the job.
Tip #1: We have one Boston Digger that we welded extra wings onto the spades to be able to scoop out water or sugary sandy soil. It closes the gap between the spades to be able to scoop out water. It works real well in swampy holes but I don't take it on ever job. But when it's a sugary sandy soil it works a lot better when you have the wings welded to it.
Tip #2: We also have our post hole digger marked at certain depths so we don't have to take a tape measure out and measure it. Just have it in the hole and close it up until you get to 36 inches or 42 inches, depending how deep you're actually going, and you're done. You don't actually need a tape measure when you're digging holes.
The Boston Digger is a little bit more money than a regular post hole digger but they do the job.