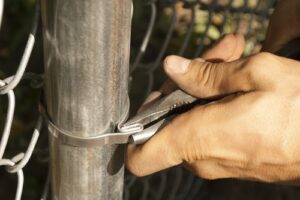 One way to stand out from the competition is to use self-locking fabric bands when installing chain link in high traffic areas such as residential, educational or recreational areas.
The pre-formed Self-Locking Fabric Bands are a flat aluminum wire that fits snuggly around the top rail or line post. Unlike a hook tie, there are no sharp exposed ends that could snag clothing or injure a child. The bands lie flat with no exposed ends. A lot of times, I get a job just because we use the self-locking bands instead of a hook tie. People don't like the appearance of a hook tie if they know what the difference is. The self-locking bands provide a look that customers prefer over hook ties. And, unlike an improperly tied hook tie, self-locking bands hold much tighter.
They are also faster to install. I demonstrate how to install a self-locking fabric band in the video. Holding the long part of the tie, I flip the curve end over the rail or post, hold the indented notch on the fabric against the post with one hand and squeeze the two ends together and hooking the ends. I then take my fence pliers and pinch the two ends together and bend the end against the post. It only takes a few hits with the flat end of the pliers to lay the end flat against the post. That's it.
Many contractors are reluctant to use the Self-Locking Fabric bands because they cost more than regular hook ties. However, you will find savings in labor costs because it is faster to install a fence with self-locking bands. But, more importantly, you gain in customer satisfaction. That, by far, will sell the job if you can show them the benefits of using self-locking fabric bands before you sell it.