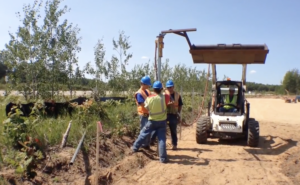 Today, we are working on a fence at a storage unit. We are putting a brand new chain link fence around it, 6 feet tall plus barbed wire. Yesterday, we set all of the corners in concrete and the gates, we have a cantilever gate on this project as well. But today, we are concentrating on pounding all of the posts in.
Earlier today we threw out all of the posts every ten foot. We set a string line instead of a bottom tension wire because there is no bottom tension wire on this job. We set a height so the bottom string line runs about 5 to 6 inches off the ground.
Today, we are also training a few guys to pound post so we have three people out there actually doing the pounding and then we also have the operator. Of the three people out there, two are leveling it, one in each direction, and the third one is actually controlling the air compressor.
As they are pounding, they are pounding about one post per minute, just over that in some cases. But it does go pretty quick even though they are all rookies on this.
If you want to cut down on people on this, once the guys get good you can have one person leveling it and one person controlling it and then you also have the operator. That will cut it down to three people. When we use a tractor, we can cut this down to two people. One person doing the leveling and one person doing the controlling and operating, the air compressor hose would go up to the operator.
The equipment we are actually using, we have a Rhino PD-50 on there. It is an older PD-50, it's probably about 20 years old. We take care of it and these things will last a long time if you do take care of them. We take them apart and oil them up after every major use.
The air compressor is a 92 CFM Kaeser. We do like the Kaesers. It is powerful enough to run a breaker, a rock drill or any one of these Rhino fence post drivers. We also have an oiler on it that is setup to take the water out of the lines.
Today, I expect to get this job done. It's about 1,500 feet and I have about 150 posts we are pounding in. On an average of 50 per hour, you are looking a three hours so it was quite easy to get all of these posts pounded in in one day.