Today we are working at the airport, and we have an existing fence we have to pull out and relocate it.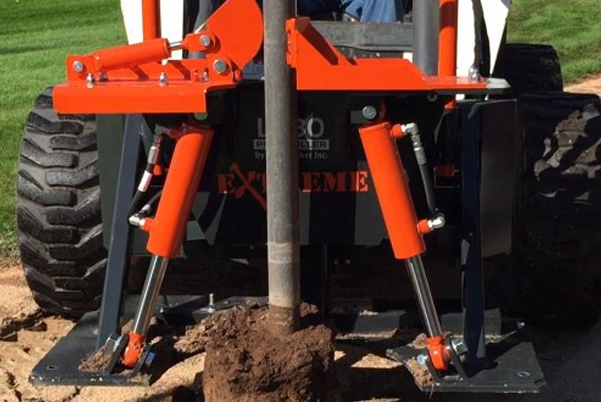 We actually are going to put up a new fence. Where the location of the old fence is that we are pulling out is in the bottom of a ditch. It's pretty hard to get to but with the Lobo Post Puller we were able to put the front end down there, hook up to it and lift it out. You see there are times where we actually had to lift it a couple of different times just because the ground is so soft and because of the ditch itself it was a little difficult to pull out. The Lobo was able to do that even in this terrain that typically would be a level ground.
It's usually fairly level but in this case the ditch made it more difficult to do but the Lobo did it fine.
With the Lobo Post Puller, the hydraulics on it allows it to push the base down and pull the post up. So, it's going to push down until it gets a solid or enough force to be able to pull it out of the ground. Then we actually take the Bobcat itself and lift it out of the ground with the hydraulics of the Bobcat. You have to break it free first and that is what the Lobo is doing. The Lobo is breaking it from the ground and allowing the Bobcat to be able to lift it up without any trouble.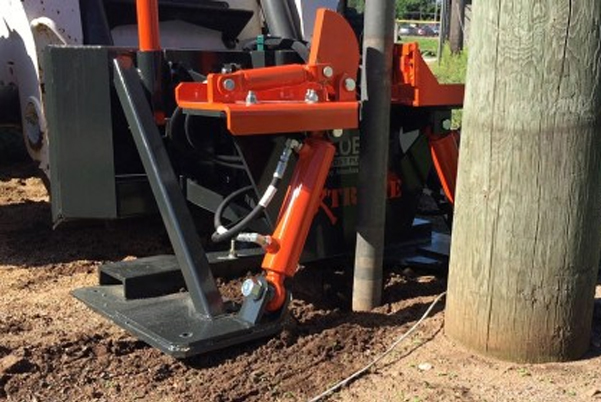 The fence here is also C-post. A lot of times when you are pulling out C-post it wants to twist on you and kink. You can see how the Lobo actually was able to clamp down on it and still was able to pop that out even though that was not a round post. Those C-post were able to pop out almost as easy as if it was a round post.
In regard to using the Lobo Post Puller you can see we only have one man doing this. It's a one-man operation. The guy in the Bobcat is doing it. You eliminate one guy holding a chain or some other device that would actually help you pull that post out. That's what the ease is of this Lobo Post Puller. You can also haul that post around with that concrete on it to drop it wherever you want to drop it and then pick it up later on.
One of the termination posts at the end of the fence line was right next to a building. The Lobo Post Puller was able to get close enough, grab it and pull it out of the ground also.
The Lobo Post Puller allowed us to get this job done nice and fast and very efficiently.
As leaders in the Michigan,
L&C Enterprise-USA believes placing emphasis on working with people. We are dedicated to providing fencing solutions that keep you safe, secure and look elegant. We believe that the products L&C Enterprise-USA offers, helps take the strain off of your fence crews and satisfy your customers. Leadership is by example.
If you live, work or play in Upper Michigan and are looking to learn more about residential fencing. Delta Fence & Construction can help! Call us at (906) 786-1076 or visit www.deltafenceman.com to schedule an appointment today.