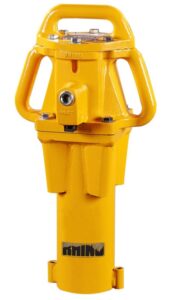 Today we are working with the Rhino PD-55. It is 55 pounds thus the name PD-55. This one is run by an air compressor. It is made by Rhino. It is the standard in the fencing industry. It is what most fence professionals use or purchase for fencing projects.
It's a lot lighter than some of them. Some can be heavier. But the PD-55 has also given us the strength we need or weight in the speed in the pounding to be able to drive in tough conditions.
In this job here, we're doing about 300 feet of chain link fence and it's pretty rocky. You can tell with the 3-inch post, we pounded it in in this location here and we hit a rock so we moved the post.
You can tell also that it's harder soil because we are actually mushrooming the pipe a little bit. We are probably going to have to cut these off in order to get the cap on but it is just showing you the real tough conditions that we have for pounding these post down. It's hitting it hard enough to mushroom the tops. Now, the other thing about the PD-55, being a lighter piece of equipment and this job isn't a large job, we are actually just lifting it, putting it on the post and standing the post up. If this was a large job, we'd have our Bobcat here with a boom on the end of it and the PD-55 would be hanging off a chain with the controller who is the Bobcat driver being able to set it on the post and drive it in.
What I like about this driver is that it is only 55 pounds. It's versatile in that you can use it by hand versus putting it on a piece of equipment. Either option, it's going to get the post down even in rocky conditions.
It will do the job. It's a great piece of equipment for any conditions. Whether it's for soft soil or harder soil, it pounds the post down very well.