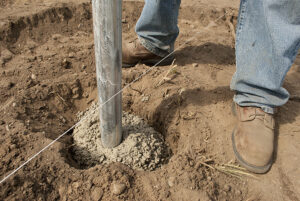 There are several ways to set poles when installing chain link fence. The method to use depends on the job, soil and personal preference.
There are two main reasons why we float our fence posts in a cement base.
Uniformity. When using concrete, floating posts will allow you to never have a need to cut a post. You just float them to the right height. We use a string line so we float them to the string line with the mark on the post so the post doesn't have to be cut.
Save on Material. All of our poles are two feet higher than the height of the fence, even though the hole is three feet deep. We float the post in the cement in the hole so our post does not have to be three feet longer than the height of the post. For instance, if the fence needs to be 7 foot high, instead of using a 10 foot post, we only need to have a nine foot post.
By using shorter posts you have a savings of one foot in the length of the pipe. So, you are saving the cost of material for that foot by floating it. Seventy posts times about $2 a foot for the post adds up pretty quickly – about $150.
When we order the concrete, we order it either five or six bag mix depending on the job and a slump of about 3 ½ inch. That will allow us to float the post. If it gets too stiff, we just add a little bit of water. Right around 3 ½ inch of slump works well for floating a 2 ½ inch commercial pipe.
Some people will put the post in the hole first and then put concrete around it. That will allow water to drain out but if the concrete should ever separate from it – which it shouldn't but it might – it has a chance of settling or sinking into the sand below it depending on the conditions of the ground. All the posts have caps on them so you shouldn't have to worry about water getting into them.
We also leave our concrete down about four inches from the surface and then we throw dirt on top of that. The reason we do that is because in this area we have a lot of frost areas and if we don't put dirt on top the frost will actually pull them up and heave them. Also, when you are digging the hole, the widest part of the hole is at the top. By putting the concrete down deeper and filling up with dirt, you avoid the top of the hole which acts as a lever to pull the concrete out with the frost.