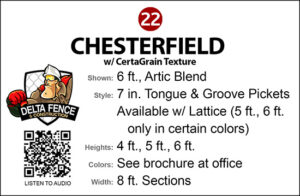 Here's an interesting idea to help with fence sales.
The outdoor showroom at Delta Fence & Construction has long offered a way for customers to view various styles of fencing whether the company was open or closed. Now, QR codes and a smart phone make it possible to provide sales information anytime potential customers scan the product sign at each display. It's a great way to have a conversation with customers when you're not open and a way to provide more information than you can on a small product sign.
When customers scan the QR code on the product sign with their smart phone, an audio file plays that describes the fence they are looking at. There are 40 products on display in the outdoor showroom. Each product has its own unique audio file.
QR codes are square two-dimensional barcodes that can be easily read by an app downloaded on a smart phone. They are often used to refer users to a website or webpage. In this case, it accesses an mp3 file that sits on the company's website server. The barcode can be generated through various free websites online.
It's like having a sales person standing there describing the fence they are interested in.
"You will notice that the chain link fabric on this section is tied to the frame with self-locking fabric bands," a voice on the cell phone says. "Normally, chain link is attached with hook ties. You can see one hook tie on the fence post in front of you to show the difference."
The audio can also be updated faster when items like the color of the fence changes. The audio files can also provide specific information such as the spacing between pickets or the appearance of the texture.
But it is only the first contact a potential customer might have with your company. Make sure to encourage them to seek out a sales person when they are ready to find out more.